GETTING YOUR WEBSITE MADE BY LE TIGRE WEBDESIGN IS SCORING IN GOOGLE!
Le Tigre Webdesign Holland for affordable Google optimized websites.
Webdesign Holland is founded in 2013 and since 2018 located in Maastricht.
We create websites that are affordable, professional and unique in design.
Our websites are Google optimized so you will always score optimally in the Google search engines.
CURRENT EXAMPLES OF CREATED WEBSITES
WORDPRESS WEBSITE
SUBSCRIPTIONS
WEBSITE
"Flora determine extra order through a donation subscription. With this subscription we ask you for a bit of solidarity. With this you support the development of our Flora websites without advertisements and without earning models and as a reward you also get free access to the new online click to click out determination system Flora determine".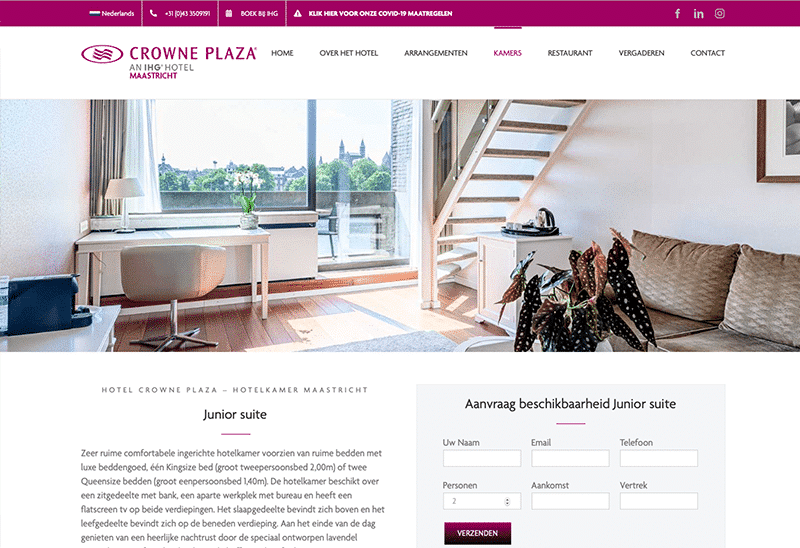 WORDPRESS WEBSITE
HOTEL BOOKING WEBSITE
"Without a doubt, Crowne Plaza Maastricht is the location for a stay in the most Burgundian city in the Netherlands. It offers a perfect base for exploring Maastricht's historic city centre with its luxury boutiques, chic restaurants and atmospheric outdoor cafés. In the summer it is ultimate enjoyment on the terrace".
LE TIGRE WEB DESIGN
SPONSOR IFAW
Mission and promise: IFAW saves and protects animals worldwide and promises both its donors and animal welfare policy makers that it will always strive for effective solutions that go hand in hand with knowledge, compassion and integrity. IFAW rescues and cares for individual animals in need and provides effective solutions that contribute to the sustainable protection of populations and habitats.
Save the Tigers support IFAW and join!
SPECIAL NOTE
WEBDESIGN SERVICES
WE WORK TOGETHER WITH PHP DEVELOPERS,
TRANSLATION AGENCIES, COPYWRITERS AND
USE ADOBE ROYALTY FREE STOCK PHOTOS