LE TIGRE WEBDESIGN MAASTRICHT CREATES WEBSITES THAT SCORE IN GOOGLE!
HOTEL CROWNE PLAZA MAASTRICHT – WORDPRESS WEBSITE
The website of Crowne Plaza Maastricht is a WordPress webshop with a booking system (client manages the website after a CMS training). This website is a responsive website with contact and booking forms. Responsive means that the website presents well on any media.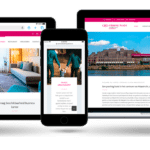 Images are provided with good instructions to be placed by the customer himself. This website can be made from 750 euro.* Text and images must be provided.
Webdesign Holland for responsive websites that score in Google.
*Price depends on amount of pages, stock pictures used, etc. Price is excluding VAT. Click on the image of the iPhone to go to the website