LE TIGRE WEBDESIGN MAASTRICHT CREATES WEBSITES THAT SCORE IN GOOGLE!
ESCARE BESCHERMINGSBEWIND – BASIC WEBSITE WITHOUT CMS
The website of Escare beschermingsbewind is a basic html-5 website with 6 sliders, without a CMS (customer can't change the website). This website is a responsive website with 5 basic pages and a contact form.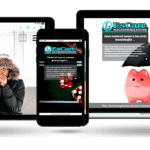 Responsive means that the website presents well on any media. This website can be made for
375 euro.*

Webdesign Holland for responsive websites that score in Google.
*Price depends on amount of pages, stock pictures used, etc. Price is excluding VAT. Click on the image of the iPhone to go to the website